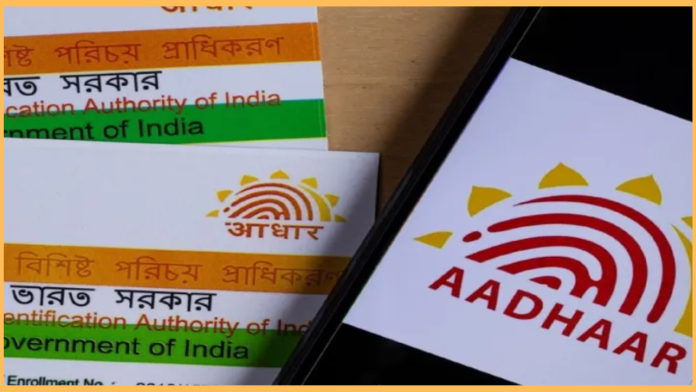 Aadhaar Update Free Till December 14: Unique Identification Authority of India (UIDAI) has again extended the deadline for free Aadhaar updating of documents by 3 months from September 14, 2023.
Unique Identification Authority of India (UIDAI) i.e. Aadhaar Authority has given good news to Aadhaar users by saying that the last date for free updating of Aadhaar has been extended again by 3 months. Meaning Aadhaar users will now be able to update Aadhaar for free till December 2023. Presently this deadline was ending on 14th September.
According to the circular issued by the Aadhaar Authority on September 6, 2023, with the aim of encouraging more and more citizens to update their documents in Aadhaar, the free update Aadhaar service is being extended for 3 months. The authority said that it was decided to update your documents in Aadhaar for free through myAadhaar portal till September 14. Based on the positive response of the citizens, it has been decided to extend this facility by 3 months i.e. from 15 September 2023 to 14 December 2023.
As per the decision of Aadhaar Authority (UIDAI), the facility of updating documents will continue free of cost till December 14 through myAadhaar portal https://myaadhaar.uidai.gov.in/. The Aadhaar authority is also urging 10 year old Aadhaar holders to update the details with the new information. Please update Aadhaar for accuracy of demographic information as per Aadhaar website. To update it, upload your proof of identity and proof of address documents.
The Aadhaar authority has clarified that the free document update should be done online at https://myaadhaar.uidai.gov.in and a fee of Rs 25 will be charged as usual for physical update at the CSC or Aadhaar centre.
How to upload address proof in Aadhaar for free
First of all go to https://myaadhaar.uidai.gov.in/.
After this login and choose the option to update name/gender/date of birth and address.
Now click on the option of Update Aadhaar Online.
Select the address from the list of demographic options and click on the 'Aadhaar Update Proceed' option.
Upload a scanned copy for address proof and enter the required demographic information.
Now a service request number i.e. SRN will be generated. Make a note of this for tracking status later.
Once the internal quality check is complete, you will receive an SMS informing you about the success of the address update.
Bank Cheque Holders Alert : Alert for those using Bank Cheque, know this update