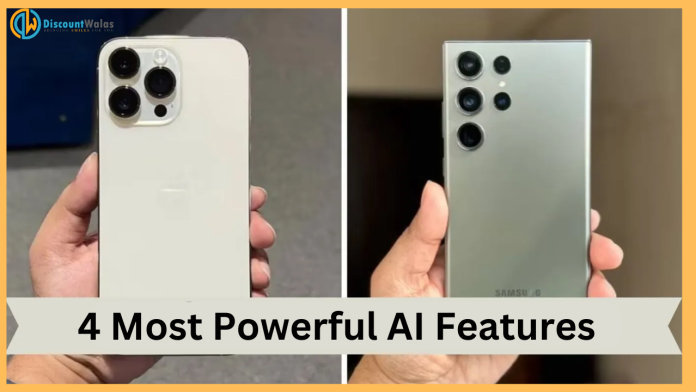 AI Features: Apple and Samsung are going to introduce new AI features in their next flagship phones, iPhone 16 and Samsung Galaxy.
AI Features: Today AI is rapidly changing the way we live and work. Over the past few years, we have seen a lot of great AI-features on smart devices, including smartphones. Apple and Samsung are also continuously working in this regard. Both companies are investing heavily in AI research and development. It is being said in some reports that AI will play an even bigger role in smartphones in the coming years. Some reports have emerged about what new AI features Apple and Samsung will introduce in their next flagship phones, iPhone 16 and Samsung Galaxy. Let us know about it in detail.
Predictive AI
Nowadays, smartphones have become an integral part of our daily lives. We use it all day long, but in the future it is being said that AI will do some tasks on its own. This will save a lot of time. AI can be used to anticipate the needs of users and act accordingly. For example, an AI assistant can predict when a phone's battery is getting low and automatically turn on power-saving mode.
Real Time Language Translation
It is being said that real time language translation can soon be improved further by AI. This could prove to be a game-changing feature for the iPhone 16 and Samsung Galaxy S24 series. This feature will allow users to interact with people speaking different languages. The phone will use AI for real-time language translation so that both people can understand each other.
AI-Powered Photography
Today, people are looking for better cameras along with performance in smartphones, but it is being said that new AI features will completely change the mobile photography experience. AI will tell you how the composition should be. Features like Automatic Scene Recognition can take smartphone photography to the next level. Even AI algorithms can be used to suggest better filters in the iPhone 16 and Samsung Galaxy S24 series. AI will also improve the quality of photos taken from smartphones.
Virtual assistant will be better
Virtual assistants like Google Assistant and Siri have become common on smartphones, but now preparations are underway to give them a new look by combining them with AI. With the iPhone 16 and Samsung Galaxy S24 series, Siri and Google Assistant are now being integrated in a way that can anticipate users' needs based on their address, schedule, and past interactions. For example, if you have a meeting, the virtual assistant can provide traffic updates and suggest when you should leave.