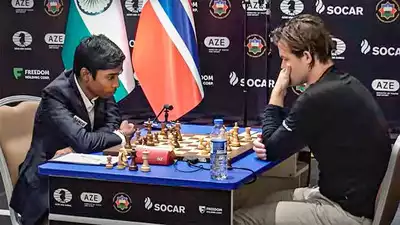 India's young chess player R Praggnanandhaa has been defeated by world No. 1 Grandmaster Magnus Carlsen in the FIDE World Cup final.
In the match played in Baku, Azerbaijan, the Norwegian veteran defeated the young Indian Grandmaster through tiebreak.
With this, Praggnanandhaa fell short of becoming only the second Indian after former veteran Viswanathan Anand to win the title.
Let's look at this news.
Carlsen won the sixth title
Carlsen is now the joint most-time champion. Let us tell that before this he has won these prestigious titles in 2013, 2014, 2016, 2018 and 2021.
He has tied Germany's Emanuel Lasker (1894, 1896, 1907, 1908, 1910* and 1910) and Russia's Garry Kasparov (1985, 1986, 1987, 1990, 1993 and 1995) as six-time champion. Are.
Praggnanandhaa performance from round one to round five
Praggnanandhaa was given a bye in the first round. In the second round, the Indian Grandmaster won 1.5-0.5 against Maxime Lagarde of France.
In the third round, he defeated experienced Czech player David Navara 1.5–0.5.
Praggnanandhaa then ousted world number two Hikaru Nakamura in the tiebreak. They won that match by a score of 3-1.
Hungarian Ferenc Berkes became his next victim in the fifth round.
Praggnanandhaa beat Caruana in the semi-finals
After this, Praggnanandhaa reached the semi-finals of the World Cup by defeating Arjun Erigasi. In the semi-finals, he defeated Grandmaster Fabiano Caruana 3.5-2.5 to book a ticket to the final.
Carlsen's journey was like this
Round-1: Bye
Round-2: Levan Pantusulia was defeated 2-0
Round-3: Defeated Aryan Tari 1.5-0.5
Round-4: Defeated Vincent Kemar 3.5-2.5 (tie-break)
Round-5: Defeated Vasyl Ivanchuk 2-0
Round-6: Defeated D. Gukesh 1.5-0.5
Round-7: Defeated Nijat Abbasov 1.5-0.5
Round-8: Defeated R Praggnanandhaa (tie-break)
Praggnanandhaa has achieved this achievement
In 2016, Praggnanandhaa became the youngest International Master. He achieved this feat at the age of 10.
Praggnanandhaa won the World Youth Chess Championship Under-8 title in the year 2013.
After this, he also won the Under-10 Championship title in 2015. Praggnanandhaa became the first Indian after 21 years to reach the final of the Chess World Cup.
Please tell that Viswanathan had won the World Cup title in the year 2000 and 2002.
Who is Grandmaster Praggnanandhaa ?
Praggnanandhaa was born on August 10, 2005 in Chennai. His father Rameshbabu works as a branch manager in Tamil Nadu State Corporation Bank while his mother Nagalakshmi is a homemaker.
Interestingly, Praggnanandhaa elder sister Vaishali also plays chess. Please inform that Vaishali became India's 10th International Women's Master in August 2021.
Both Praggnanandhaa and Vaishali are coached by RB Ramesh.
Anand is India's most successful Indian Grandmaster
India's most successful Grandmaster in the FIDE World Cup is Viswanathan Anand. He has won this title 4 times (2007, 2008, 2010 and 2012).