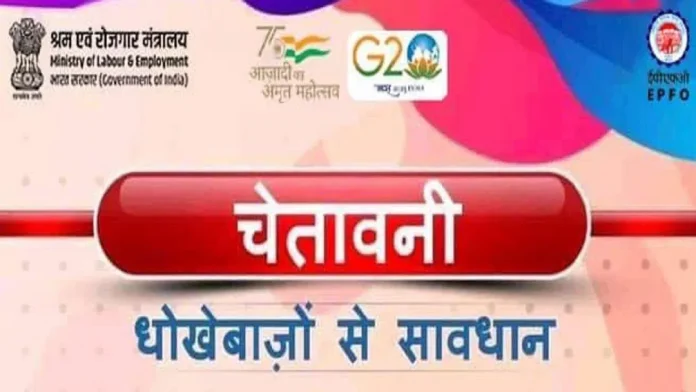 Fraud in PF Account: Fraudsters are asking for personal information of people in the name of EPFO ​​(EPFO News) through phone calls and messages and making them victims of fraud.
EPFO Warning: Employees' Provident Fund Organization (EPFO) alerted its more than 6 crore members saying that EPFO ​​manages the amount of employees deducted as PF. Keeping this in view, has alerted its members about cyber crime. If you are also a member of EPFO, then this is very important news for you. Many cases of fraud ( Fraud in PF Account ) have come to the fore in the name of PF account. Fraudsters are asking for personal information of people in the name of EPFO ​​(EPFO News) through phone calls and messages and are making them victims of fraud. In such a situation, EPFO ​​has advised to be alert.
EPFO tweeted 'Beware of fake calls and SMS that EPFO ​​never asks its members to share personal details over phone, e-mail or social media. EPFO and its employees never ask for such information. EPFO has advised its members not to share their UAN, PAN, password, bank account details, OTP, Aadhaar and financial details with anyone. Cyber ​​criminals can use the personal details of EPFO ​​members in an illegal manner and the members may also have to face financial loss.
#EPFO कभी भी अपने सदस्यों से व्यक्तिगत विवरण जैसे आधार, पैन, यूएएन, बैंक खाता या ओटीपी फोन या सोशल मीडिया पर साझा करने के लिए नहीं कहता है।#amritmahotsav #alert #beware #StaySafe #stayalert pic.twitter.com/Dp0QkJihhQ

— EPFO (@socialepfo) December 11, 2022
PF gets 8.1 percent interest
Explain that EPFO ​​deposits funds for the retirement of employees. Under this, money is deposited on behalf of both the company and the employees and under the EPF account, 12 percent of the basic salary of the employees and the same amount is deducted from the company. 8.1% interest is given annually on this amount deposited every month. When the retirement age is reached, the amount is paid to the employees.
How much is the interest rate
The government had reduced the interest rate on deposits in PF account from 8.5 per cent to 8.1 per cent in the last March. This is the lowest interest rate in almost 40 years.
In 1977-78, the EPFO ​​had fixed an interest rate of 8 per cent. But since then it has been continuously at 8.25 per cent or more.
12% deduction on the salary of an employee is for EPF account.
8.33 percent of the deduction made by the employer in the employee's salary reaches the EPS Employees Pension Scheme, while 3.67 percent reaches the EPF.
Be careful with these messages and calls
If you also get a message or call from EPFO, then be alert, because it can also be for the purpose of fraud.
EPFO gave information on tweet that do not give information about Aadhaar card, PAN number, UAN and password. Also does not ask for account number, OTP and personal information.
Also does not ask to share such things through WhatsApp and other social media. Do not reply to such messages.