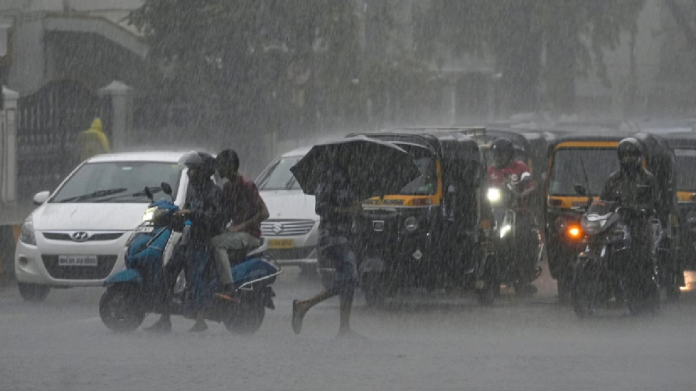 Heavy rain may occur over Western Maharashtra, south-eastern tip of Gujarat and Madhya Pradesh. There may be rain and thundershowers in Bihar, Jharkhand, Uttarakhand, Jammu and Kashmir, Himachal Pradesh, Punjab and Haryana.
Weather Update Today: Monsoon activity has increased. The monsoon line is moving south-eastwards through Jaisalmer, Udaipur, Bhopal, Raipur and Puri and reaching central Bay of Bengal. Cyclonic circulation was formed over South Interior Orissa and surrounding areas, which is now over South Chhattisgarh surrounding areas.
Red orange alert issued for heavy rain
According to the Meteorological Department, a 24-hour red orange alert has been issued for heavy rains in parts of Madhya Pradesh, Vidarbha, Konkan, Goa, Kerala, Chhattisgarh today. On the other hand, there is a possibility of heavy rains with light to moderate rains in Orissa over Telangana, North Coastal Andhra Pradesh, Lakshadweep.
Heavy to very heavy rainfall warning has also been issued for Andaman and Nicobar Islands including Bihar, Jharkhand, West Bengal, East and Central Uttar Pradesh, East Rajasthan, Gujarat, Marathwada, North East India, Coastal Karnataka and Interior Karnataka.
Heavy rain warning in 17 states including Bihar 
Heavy rain warning has been issued in 17 states including Uttar Pradesh and Bihar. There is rainy weather in some states. With which the heat has increased once again. An increase in temperature will be seen in some areas of Himachal, Uttarakhand including Haryana, Uttarakhand, capital Delhi.
The Meteorological Department said that the monsoon conditions are going to be active in North India, Central India and East India for the next three to four days. Along with this, very heavy rains are forecast from India for the next 3 days in West Madhya Pradesh, Maharashtra, Gujarat.
According to IMD, Monsoon activity is going to remain active in the states of North Peninsular Central and East India for the next three to four days. Rain activity will be seen. The minimum temperature in New Delhi is expected to be 27 and the maximum temperature can go up to 37 degree Celsius. On the other hand, light rain can be seen in New Delhi from 9 to 11 September.
When will it rain in these states
Orissa and Jharkhand will see heavy rain from 7 to 10 September.
Rain alert has been issued in Bihar for September 8.
Heavy rain warning has been issued in Andaman and Nicobar Islands, South India, Telangana, Karnataka, South Interior Karnataka, Pondicherry, Karaikal, Kerala and Mahi.
September 7 to 10 in Central India September 7 to 11 in Vidarbha
A warning of moderate rain has been issued in Chhattisgarh from 7 to 12 September.
Heavy rain forecast
Heavy rain has been predicted in Assam, Meghalaya, Manipur, Nagaland, Mizoram, Tripura and Arunachal Pradesh till September 12. An alert has been issued regarding landslides. Rain has been predicted in Eastern Rajasthan including Uttar Pradesh, Gujarat, Central Maharashtra and Konkan including Goa till September 12. Sporadic rain can be seen in South India's Tamil Nadu state border, Karnataka, entire Karnataka and Maharashtra.
weather alert
South India:
Tamil Nadu, Puducherry, Karaikal and Kerala-Mahe during 8-11 September,
South Interior Karnataka on 9-10 September and Coastal Karnataka on 8-10 September
Central India:
Madhya Pradesh during 8-9 September and Vidarbha on 9 September.
Northeast India:
 Assam, Meghalaya, Nagaland, Manipur, Mizoram and Tripura during 8-11 September,
Arunachal on 10 September.
West India: 
Marathwada on 8 September, Konkan-Goa on 8-11 September
Central Maharashtra and Gujarat region on 9 September.
Eastern India:
Odisha, Bihar and Jharkhand on 8 September,
Over Andaman and Nicobar Islands on 8, 10 and 11 September.
UPI Lite on Paytm : With the new feature of UPI, you can make payment without PIN, know how to link it with Paytm.