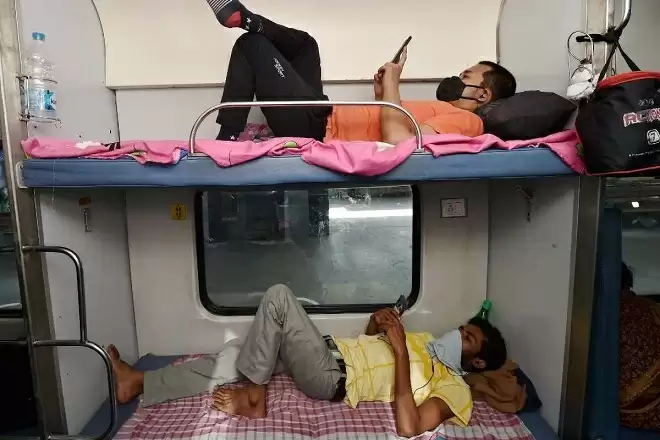 Indian Railways: If you also travel by train, then definitely read this news. Railway has made new rules regarding night travel, know these rules or else you may face trouble in traveling.
Indian Railway Latest Rule: Indian Railways has made a new rule for the convenience of passengers. Actually, Indian Railways keeps on amending the rules from time to time. Now the railways have made some new rules keeping in mind the sleep problems faced by the passengers at night. With this rule, now passengers will not have any problem of disturbing sleep at night.
new rules come into force
According to the news published in our partner website india.com, Railways has implemented a new rule for night travel. According to this, during the journey now no co-travellers around you will be able to talk loudly on mobile or listen to songs in loud voice. In fact, the railways was continuously receiving such complaints from the passengers, after which the railways has taken this decision. If any passenger is found doing this, then action will be taken against him.
Train staff got the responsibility 
Railways has given the responsibility of implementing this rule properly to the train staff. Under the new rules, if the complaint received from the passenger in the train is not resolved, then the accountability of the train staff will be there, that is, the railway staff will be questioned. It has been implemented with immediate effect by issuing orders to all the zones on behalf of the Ministry of Railways.
Railways used to get these complaints
According to the information given by the Ministry of Railways, the railways often received complaints of talking loudly or listening to music on the mobile of the passenger present in the passenger seat, after which this rule was made. There have also been cases when the escort or maintenance staff of the railway also talks loudly during the patrol. There was often a dispute among the passengers about lighting the lights at night. This disturbs the sleep of the passengers.
Know the guideline of 10 pm
No passenger will talk loudly on mobile or listen to loud music while traveling.
It will be mandatory to turn off all the lights except the night light.
Passengers will not be able to talk to each other till late night in the train.
Checking staff, RPF, electrician, catering staff and maintenance staff will work peacefully at night.
 The elderly, differently-abled and single women above 60 years should get immediate help in case of need of railway staff.