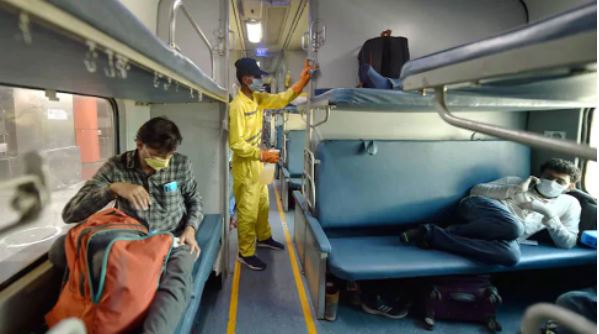 Indian Railways Train Ticket Rules: What if your ticket is lost in the train journey? Will you be barred from traveling or will you be fined heavily? Know about your work here.
Indian Railways Train Ticket Rules: There are lakhs of people in the country, who use train every day to go from one city to another. In such a situation, the Railways also takes full care of its passengers. But what if you lose your train ticket while traveling by train. Will you have to take another ticket again in such a situation? Or TTE will not allow you to travel by train. Or it may also happen that you have to pay a heavy fine for traveling without a ticket. No, you don't need to worry. According to railway rules, in such a situation you should immediately go to the ticket checker. He can solve your problem. Let's know how?
Every day crores of people travel by Indian Railways. In today's time, most people book train tickets online. Still, there are a good number of people who take counter tickets from the platform. So what if your train ticket gets lost during the journey? But let us tell you that in such a situation you do not need to panic. According to the railway rules, you can get your duplicate ticket made by going to the train ticket checker. Let's know everything about this.
How to make a new ticket after losing the ticket
If your ticket is lost during the journey, and you do not have the facility to show the ticket from your mobile, then you can make a new duplicate ticket for yourself from the ticket checker. For this you will have to pay a fine of Rs. But in case of losing the ticket, you have to contact the ticket checker immediately. After knowing the whole thing, Ticket Check can issue a new ticket for you.
Have to pay fine
According to railway rules, if you have booked ticket over the counter, you will have to pay a fine of Rs 50 for sleeper class and Rs 100 for AC class if you report the loss of ticket before chart preparation. On the other hand, if you have reported losing the ticket after chart preparation, then you have to pay a fine of up to 50 percent of the ticket.
Know these things too
If for some reason you have to travel beyond your fixed limit, then Indian Railways has also made rules for this, in which you can extend your journey further from TTE by paying some nominal fee and as far as you As far as you want to travel, you can make a train ticket. For this you have to pay a certain penalty.