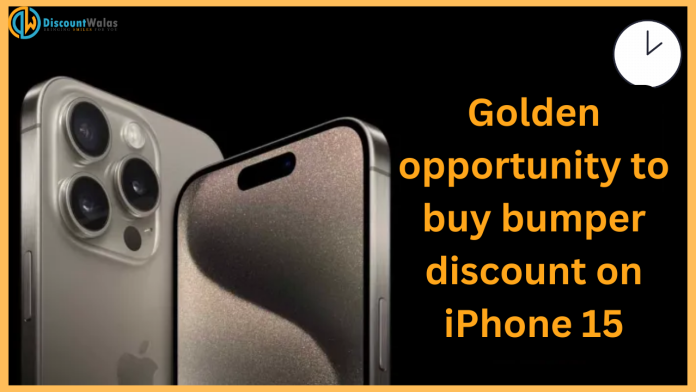 iPhone 15 Discount: Apple's new phones and smart gadgets have been launched. This is a golden opportunity to buy it at a bumper discount. Learn here the tricks to buy iPhone at low price and discount offer.
iPhone 15 Discount: After the launch of Apple's new smartphone, many users might be thinking of shifting from the old device to the new one in time. There is a competition among Apple lovers to buy it first.
After pre-booking this phone, some people reach the stores on the first day. It is also common to hear reports of being out of stock. Initially its price is high, that is why people are not able to buy it. With this easy trick you can get a bumper discount on the new iPhone. Know about the discount offer in detail here.
You can save up to this much rupees on iPhone 15
iPhone 15, iPhone 15 Plus, iPhone 15 Pro and iPhone 15 Pro max have been introduced by Apple. All the new smartphones have Dynamic Island and 48MP camera. Its price starts from Rs 79,900. The price of the top model iPhone 15 Pro max 1TB variant goes up to Rs 1,99,900. You can save up to Rs 6000 on these phones. For this you will need only one thing.
This way, save up to Rs 6000 on iPhone 15
To save up to Rs 6000 on Apple's new iPhone 15, you must have an account in HDFC Bank. If you do not have an account in this bank then you can borrow a card from someone else to buy the phone. This discount is under bank offer. You can save money only by purchasing it from the website.
Buy phone at discount from here
To buy iPhone 15 at a discount, first visit Apple's official website. After this select the variant you want to buy. Now while making payment, click on the card option and select HDFC Bank. In this way you can save up to Rs 6000 under the bank offer.