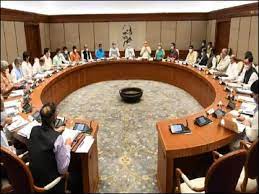 Modi Cabinet Decisions: On Monday (September 18) during the special session of Parliament, the Modi Cabinet approved the Women's Reservation Bill. Sources have given this information. In the cabinet meeting chaired by Prime Minister Narendra Modi, 33 percent women's reservation was approved in elected bodies like Lok Sabha and Assemblies.
The Women's Reservation Bill can be presented in the new Parliament on 19 September i.e. Tuesday. Sources said that it will be presented in the Lok Sabha after 1 pm. The government is trying to get it passed on Wednesday (September 20) after extensive discussion.
Earlier, just before the start of the special session of Parliament, on Monday (September 18), Prime Minister Narendra Modi said that the session of Parliament is short but according to the time, it is full of very big, valuable and historic decisions.
…Moral courage was in Modi government only – Union Minister Prahlad Singh Patel
Union Minister Prahlad Singh Patel has thanked the government on the issue of women's reservation through a post on social media platform X. He wrote, "Only the Modi government had the moral courage to fulfill the demand for women's reservation, which was proved by the cabinet's approval." Congratulations Prime Minister Narendra Modi ji and Modi government." However, Patel later deleted his post.
Women's Reservation Bill cleared in Union Cabinet meeting, says sources pic.twitter.com/UpJgmrK6EF

— ANI (@ANI) September 18, 2023
PM Modi can address a large gathering of women – sources
BJP can organize a big meeting of women in Delhi or any city of Rajasthan adjacent to Delhi on Wednesday (20 September) or a day after that. PM Modi himself can address the meeting. Sources said that this entire program has been kept secret for now.
Thousands of women can come to Delhi
Sources said that if the Women's Reservation Bill is passed, thousands of women from areas around Delhi may come to Delhi to thank Prime Minister Narendra Modi . Actually, the MPs who came to the residence of BJP President JP Nadda were from around Delhi (NCR). According to sources, MPs have been given the responsibility of bringing women from parliamentary constituencies around Delhi.
What is the percentage of women MPs in the Lok Sabha at present?
There are 78 women MPs in the current Lok Sabha, which is less than 15 percent of the total number of 543. Women's representation in many state assemblies, including Andhra Pradesh, Arunachal Pradesh, Assam, Goa, Gujarat, Himachal Pradesh, Karnataka, Kerala, Madhya Pradesh, Maharashtra, Manipur, Meghalaya, Odisha, Sikkim, Tamil Nadu, Telangana, Tripura and Puducherry, is below 10 per cent. is less.
Let us tell you that in the last few weeks, many parties including Congress, Biju Janata Dal (BJD) and Bharat Rashtra Samiti (BRS) have demanded the introduction of the Women's Reservation Bill.