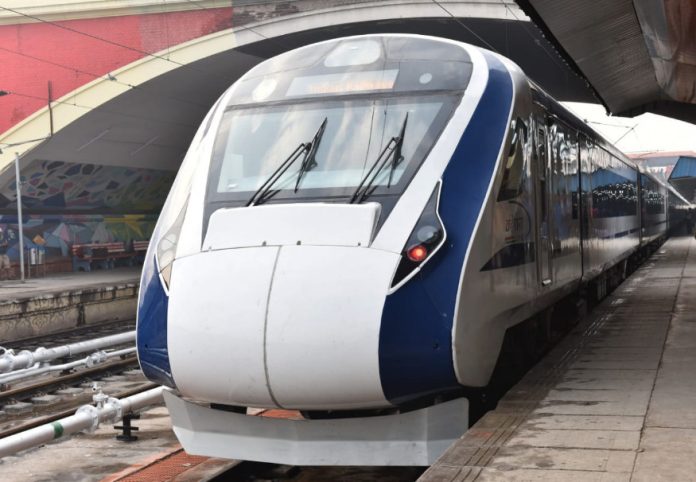 There is good news for the people of Delhi and Lucknow. Soon two new Vande Bharat Express trains are going to start on this route. With this, where the people traveling between the two cities will get the facility of semi-high-speed train, the travel time will also be completed in 5 hours.
Indian Railways is going to give a big gift to those traveling by train between Delhi and Lucknow. Very soon 2 new Vande Bharat Express trains can be started on this route. Railway Board has decided to run two Vande Bharat trains between Lucknow and New Delhi soon. Officials say that this train will be started soon.
The fastest Vande Bharat Express in India currently runs between Varanasi and New Delhi. Due to this train, the load of other passenger trains running on the route has reduced.
Will go from Lucknow to Kanpur via Delhi
At present, the Vande Bharat train that runs between Delhi and Varanasi goes via Kanpur Central. The newly started train will also reach Kanpur from Lucknow and then reach Delhi. Officials told that this train will become an alternative to Shatabdi.
Lucknow will become an alternative to Shatabdi
At present Shatabdi train runs between Delhi-Lucknow. New Vande Bharat Express will become its alternative. Shatabdi is a chair car train and Vande Bharat Express will also be a chair car train. At present, the load of passengers is more in Lucknow-New Delhi Shatabdi. Tickets are not easily available in these trains. Therefore, the running of Vande Bharat trains is expected to reduce the load of passengers.
The journey will be completed in 5 hours
Shatabdi Express takes about 6 hours to complete the journey from Delhi to Lucknow. Vande Bharat Express will reduce this travel time to 5 hours. Currently 23 pairs of Shatabdi trains are running in India. New Vande Bharat Express trains are also reported to run around the time of Shatabdi Express.
Soon Vande Bharat will be seen running from Lucknow to Delhi at a speed of 130 km per hour. For this, the Railway Board has prepared its complete blueprint. If the officials are to be believed then in the month of February itself everything will be worked out in detail. So that the passengers can take advantage of these trains till the month of March.