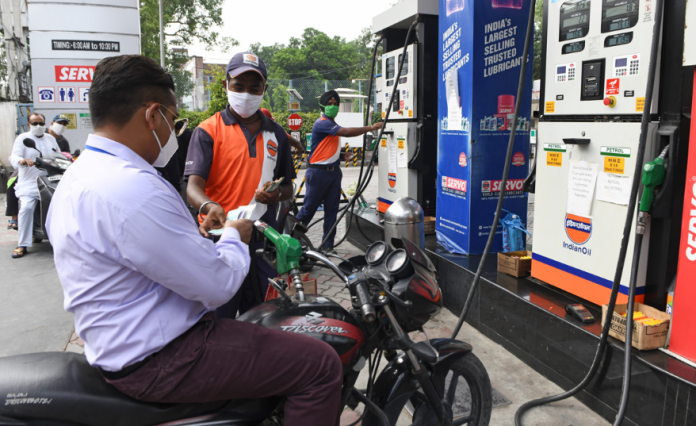 Petrol Diesel Price update: While the rising inflation in the country has increased the concern of the people, the government has continued to provide relief by keeping the prices of petrol and diesel stable. Meanwhile, petrol and diesel became cheaper in the neighboring country of India.
Petrol-Diesel Price Today 16th July 2022: Government oil companies have released new rates of petrol and diesel for today (July 16). The government has continued the relief in the prices of petrol and diesel even today. The last time on May 21, the central government had announced to reduce the prices of petrol and diesel. On May 21, the Modi government at the Center had reduced the excise duty on petrol and diesel. After this, petrol became cheaper by Rs 9.50 and diesel by Rs 7 per liter across the country.
Petrol and diesel became very cheaper in Pakistan
In the neighboring country of Pakistan, which is facing inflation, the government has given some relief to the public. Petrol and diesel prices have been reduced in Pakistan. Prime Minister Shahbaz Sharif has cut the price of petrol by Rs 18.50 per liter and diesel by Rs 40.54 per liter. Since the formation of Shahbaz Sharif's government in Pakistan, since then petrol and diesel have been made cheaper four times.
New rates released, You must know about rate
Addressing the country, Pakistani PM Shahbaz Sharif said that the prices of crude oil have come down continuously. Crude oil has come down below $100 per barrel. In view of this, the government has taken this decision. He said that now the prices of petrol and diesel will be further reduced. Let us tell you that the new price of petrol in Pakistan is Rs 230.24 per liter, while diesel has gone up to Rs 236 per liter.
Flight Ticket Big Offer: Opportunity to travel in flight for just Rs.100! Together you will get this benefit of up to 50 lakhs
What is today's price in India?
Delhi Petrol Rs 96.72 & Diesel Rs 89.62 Per Ltr
Mumbai Petrol Rs 111.35 & Diesel Rs 97.28 Per Ltr
Chennai Petrol Rs 102.63 & Diesel Rs 94.24 Per Ltr
Kolkata Petrol Rs 106.03 & Diesel Rs 92.76 Per Ltr
Petrol in Noida Rs 96.57 and diesel Rs 89.96 per liter
Petrol in Lucknow Rs 96.57 and Diesel Rs 89.76 per liter
Petrol in Jaipur Rs 108.48 and Diesel Rs 93.72 per liter
Petrol in Thiruvananthapuram Rs 107.71 and Diesel Rs 96.52 per liter
Petrol in Port Blair Rs 84.10 and Diesel Rs 79.74 per liter
Petrol in Patna Rs 107.24 and Diesel Rs 94.04 per liter
Rs 97.18 and Diesel Rs 90.05 per liter in Gurugram
Petrol in Bengaluru Rs 101.94 and diesel Rs 87.89 per liter
Petrol in Bhubaneswar Rs 103.19 and diesel Rs 94.76 per liter
Petrol in Chandigarh Rs 96.20 and diesel Rs 84.26 per liter
Petrol in Hyderabad Rs 109.66 and diesel Rs 97.82 per liter