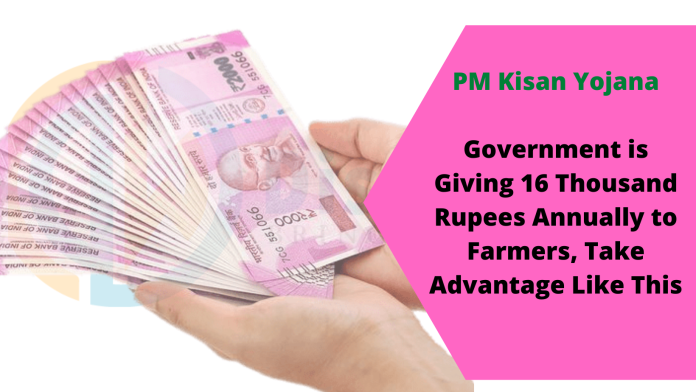 PM Kisan Yojana: An annual financial assistance of 16 thousand rupees is being given to the farmers by the government. With this, they are easily buying fertilizers and seeds. Know how you can take advantage of it.
PM Kisan Yojana: Many schemes are being run by the government to provide financial help to the farmers. With the financial assistance from the government, farmers buy their agricultural resources, fertilizers, seeds etc. This gives them financial strength.
Let us tell you here that apart from the central government, the state governments are also running schemes for the benefit of the farmers . One of these states is where farmers get financial assistance of Rs 16,000 annually. This state is Telangana. The farmers here do farming without any worry due to the financial help of 16 thousand rupees.
Farmers get honor fund of 6 thousand
. Under the Pradhan Mantri Kisan Samman Nidhi Yojana being run by the Central Government, farmers across the country are given financial assistance of Rs.6 thousand per year. Three installments of Rs 2-2 thousand are sent to the account of farmers in a year.
10 thousand are available in
Rythu Bandhu Scheme Rythu Bandhu Scheme is being run by the state government in Telangana. Under this scheme, 10 thousand rupees are sent every year to the account of farmers. In this way, the farmers of Telangana get Rs 6 thousand annually under PM Samman Nidhi and Rs 10 thousand under Rythu Bandhu scheme.
The scheme was started in 2018,
Rythu Bandhu scheme was started to provide financial help to the farmers in Telangana. During the beginning of the scheme in the year 2018, the state government used to give 8 thousand rupees annually. This amount was given for the Rabi and Kharib seasons. Later in 2019, the government increased this amount to Rs 10,000.
In January 2021, funds for the Rabi season were sent to the farmers' account under the Rythu Bandh scheme. Under this scheme, 62.99 lakh farmers have been benefited.
Mandatory to be
a resident of Telangana To take advantage of Rythu Bandhu scheme, it is mandatory to be a resident of Telangana. The benefit of this scheme is given to those farmers who have their own land in their name. Those cultivating on rent do not get financial assistance.
There are also some rules for the eligibility of PM Kisan Yojana. The person filing income tax return has been kept out of the purview of PM Kisan Samman Nidhi Yojana. Apart from this, lawyers, doctors, CAs have also been kept out of the scheme.
If you are a resident of Telangana and are not taking advantage of PM Kisan Yojana or Rythu Bandhu Scheme till now. While eligible for this, you can apply for both these schemes and take financial assistance of 16 thousand rupees annually.