New Delhi, Anurag Mishra. In the fight against corona virus, every IIT is trying its best to understand the current needs. A major problem with the identification and treatment of corona patients is the lack of PPE kits. PPE kits can also cause viruses if not used properly. In such a situation, for the safe and better use of the device, Professor Dr. Viman B. Mandal of the Department of Bioscience and Bioengineering, IIT Guwahati, has prepared a spray with his PhD scholar Vibhash Kumar Bhunia.



Professor Mandal said that the most important thing to protect against corona virus is mask. It is used by doctors, healthcare professionals and common people. The mask acts as a barrier to the virus. This protects us from various microbes. Mandal says that since the mask cannot be used again, it is needed in large numbers. At the same time, many times the mask or fabric is not used properly and it becomes the carrier of the virus. In such a situation, the spray made by IIT is very effective. In a way, this spray acts as an additional coating. Through this PPE kit can also be used again.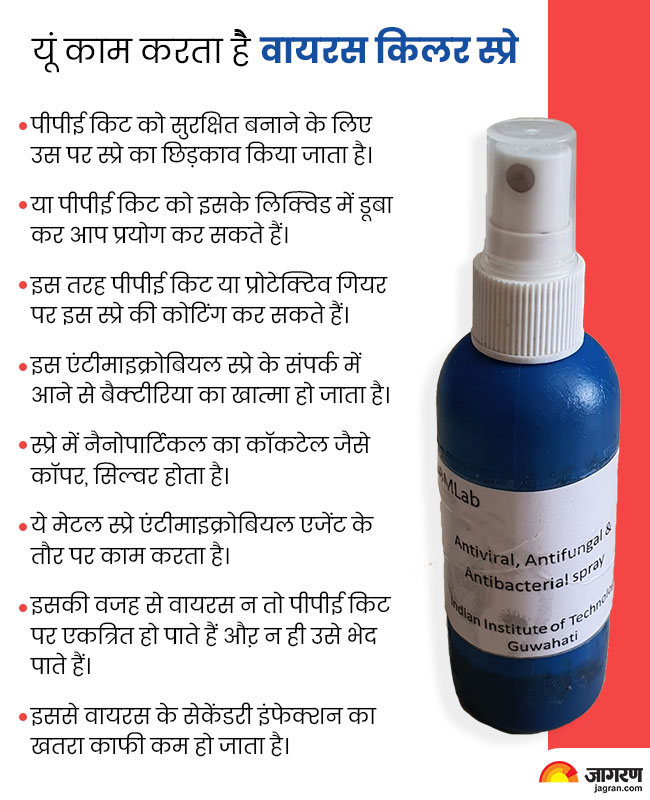 Prof. Mandal says that the price of IIT Guwahati Spray is quite reasonable, as well as it has been prepared according to industry standards, so that its manufacturing will not have to undergo much changes in future. He said that we are engaged in a fight against Corona under the leadership of our director TG Sitaram.
How the spray works



To make the PPE kit safe, this spray is sprayed on it or you can use it by immersing it in liquid. One way you can do this spray coating on PPE kits or protective gear. Mandal said that exposure to this antimicrobial (antiviral / antibacterial) spray kills bacteria. The spray acts as an antimicrobial agent in the presence of a metal nanoparticle cocktail such as copper, silver, and other active elements present in the spray. Because of this, viruses are neither able to collect on PPE kits nor detect them. This greatly reduces the risk of secondary infection of the virus.
Professor Mandal says that it has been tested in the lab. It is waiting for its recommendation from the government. The team has applied for its provisional patent.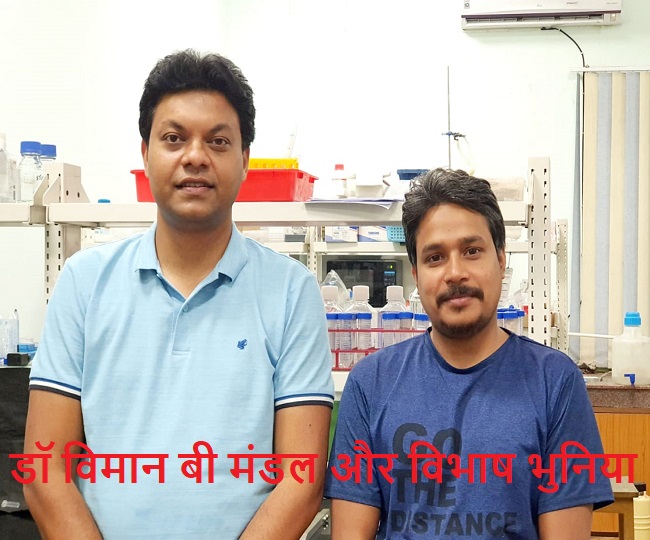 Benefits of spray
– The spray can be reused
– There will also be less pressure on the manufacturers that they may have to prepare other masks and devices soon.
-The touch of fingers or anything else will get rid of the problem of getting polluted.



-Biomedical vest will decrease
This drone of students is also very useful
Some students of IIT Guwahati have developed a drone with automatic spray that allows a large area to be sanitized simultaneously. This will help prevent the corona virus from spreading. This group of students has a startup called Racerfly. The group proposed to the Assam and Uttarakhand governments to be partners in the fight against this epidemic. Students say that this drone can complete sanitation work in just 15 minutes, which is usually done by a man in one and a half days.