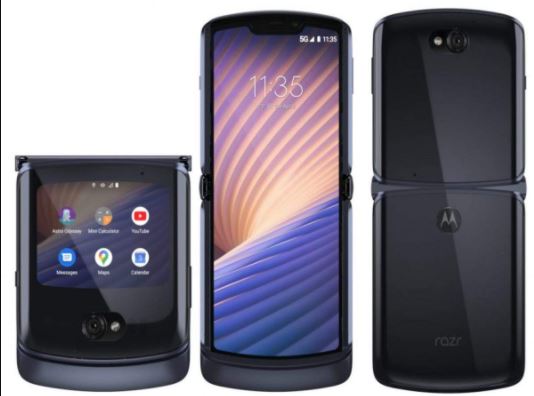 Although there are many smartphones in the market, but foldable phones have a different swag. 
The craze of foldable phones is increasing day by day and seeing this craze of the people, many smartphone companies are ready to launch their products in this segment. Samsung-Moto and Huawei devices are already present in the segment and now Oppo has announced the launch of its foldable phone. Who does not want to buy a foldable smartphone, but due to being expensive, it is out of reach of many people.
Opportunity to buy in cost half
if you are not able to buy it because of the dream of keeping Foldebl phone but expensive, now your dream can come true. Actually, a good foldable smartphone is available for less than half the price, which can add to your style. Let's know everything in detail…
Actually, a cool foldable smartphone of Motorola 'Motorola Razr 5G' is available for sale on the e-commerce site for less than half the price. Although the actual price of Motorola Razr 5G is Rs 1.50 lakh but on Flipkart the phone is available for just Rs 89,999 after 40% off. But the offer does not end there.
You can also take advantage of the full exchange bonus of up to Rs 15,450 on the phone. ( Note- The amount of exchange bonus will depend on the condition and model of your old phone.) That is, if you get the benefit of the full exchange bonus, then the price of the phone is just Rs 74,459, which is less than half. On Flipkart, this offer is available on the Polished Graphite color of the phone.
Apart from this, you are getting many bank card offers on the phone. You can also bring this phone home at an EMI of ₹ 3,076 per month.
Let us tell what is special in the phone, in
fact, this 5G foldable phone is available in the only 8GB + 256GB variant. When unfolded, the phone gets a 6.2-inch HD+ AMOLED display, while even when folded, the phone has a 2.7-inch Quick View display, in which information about calls and notifications is available.
The phone works on Qualcomm Snapdragon 765G processor and for photography it has a 48-megapixel rear camera and a 20-megapixel selfie camera. You can use the rear camera as a dual camera. You can use a nano and e-sim in the phone. It is equipped with a 2800mAh battery and weighs only 190g.