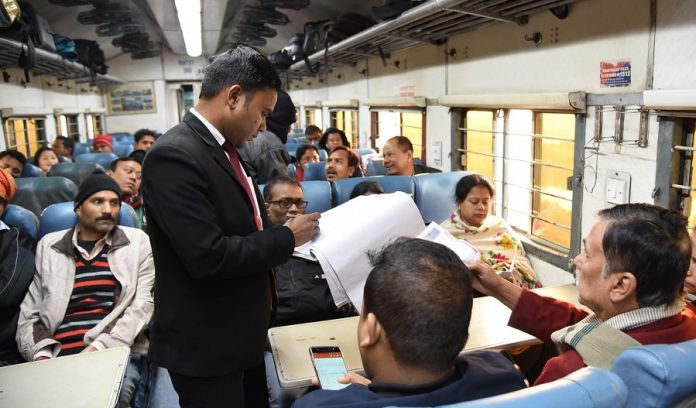 Why Train Fare is Rising?: There are a lot of complaints on social media about the difficulties in traveling by train. Users are shocked by the skyrocketing train fares…
Indian Railways transports millions of people to their destinations every day in the country. For this, many trains are operated daily. Among those who travel by train, there are also daily commuters who travel from office to home and from home to office. There is also a large number of travelers traveling from one city to another or from the work city to their native village.
Passengers increase during festivals
Although a large number of people travel by train every day, but on some special occasions the number of people traveling by train increases significantly. During festivals, such migrants start returning to their homes i.e. their native places, who are living far away for work or studies.
These days something similar is going on. Festivals like Dussehra-Diwali have passed, but Chhath has started from today. The number of people celebrating Chhath is very high in Bihar and Uttar Pradesh. In such a situation, people are returning to their homes from cities like Delhi and Mumbai, due to which the pressure on trains has increased.
Rent is high even after festivals
This story is not of today. Over the years this story has been repeated as a rule. Before the festival, train tickets become full. The pictures of people forced to travel in inhumane ways in train coaches during the festive months become fresh every year.
Along with this, another story is written every time, and that is the story of skyrocketing train fares. This time the situation seems even worse. Train fares are beating plane fares. Even after festivals the fares are sky high.
Look at the situation of this day
You can understand this from this example. On the official website of IRCTC, we made an inquiry for the 21st November train from Mumbai's Chhatrapati Shivaji Terminal to Patna Junction. 21st November is the last day of Chhath.
This means that the pressure of the festive crowd on Chhath cannot be felt on this day, because whoever has to come from Mumbai for Chhath, will in any case reach before 21st November. Even after that, you may be surprised by the fares shown for 21st November.
Sleeper fare triple
On enquiry, the first train that comes up is Mumbai-Patna Suvidha Express. For November 21, the waiting list in sleeper class is 20 and the fare is Rs 2,625. If we check the break up of the fare, we find that the base fare is Rs 857.
There is a reservation charge of Rs 20 and a superfast charge of Rs 30. The thing that is making the biggest difference is dynamic fare. Dynamic Fair is showing Rs 1,714 in break up. That is, straight double of the basic fare. The total fare is thus becoming more than three times the original fare.
Third AC fare equal to plane fare
When we checked Third AC, 36 tickets were seen available in it. In case of third AC, the base fare is Rs 2,083. On top of that there is a reservation charge of Rs 40 and a superfast charge of Rs 45. Dynamic fare
In this case also the basic fare is becoming double i.e. Rs 4,166. GST of Rs 317 is applicable on third AC ticket. In this way, the total fare for November 21 is reaching Rs 6,655.