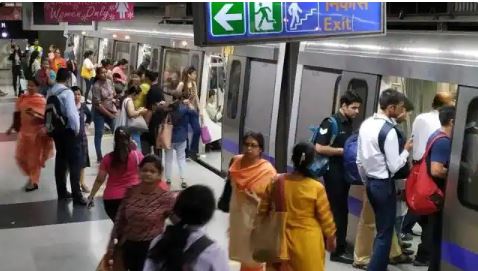 Delhi Metro is preparing to give new facilities to the passengers soon. Actually, now the smartphone of the passenger can also be used as a metro card on all the lines of the metro.
Delhi Metro News: Delhi Metro is now preparing to rid the passengers of the travel card used for travel. Actually, now only the smartphone of the passenger can be used as a metro card on all the lines of the metro, at present this facility is applicable on the airport line. Due to the convenience, about a third of the passengers are also using it. Every day 16,000 passengers enter the airport line by scanning the QR code with a mobile. Delhi Metro will now start this facility on all its lines, for this it is upgrading its entry gate. The facility of National Common Mobility Card (NCMC) will be implemented by March 2023.
At present, so many passengers take advantage of this facility.
Let us tell you that in 2018, the Delhi Metro had provided the facility of traveling on the Airport Express Line from the QR code. Since then, gradually the number of people using this system is increasing continuously. At present, about 50 thousand passengers travel on this line daily. Of these, 16,000 passengers scan QR codes with their smartphones to travel. At present, this line has the facility of travel by smart phone, smart card, NCMC Rupay card.
Upgrading AFC Gate
Automatic Fare Collection (AFC) gates are being upgraded for implementation of NCMC across the entire network of Delhi Metro. DMRC has tied up with Paytm Bank to provide QR code, Near Field Communication (NFC) media and NCMC RuPay card facility. By March 2023, two entry or exit AFC gates of Delhi Metro are being made fit for use by NCMC. There are 3,300 AFC gates at the Phase-I, 2 and 3 Metro stations. Through the app, you can buy QR coded tickets for the destination from any station. Even to enter the metro station, the QR code has to be scanned from the smart phone at the AFC gate. At the end of the journey, the evacuation from the station can also be done through mobile.