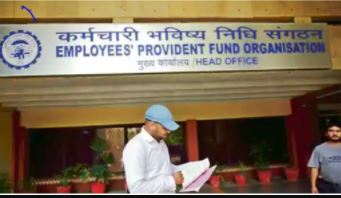 EPFO News Alert: If you are a member of EPF and your PF is deducted, then the name of the nominee should be added to your account today. 
Informing its over 6 crore members, EPFO ​​has tweeted, "Members to file e-nomination today to provide social security to their families. Members to nominate there family members/nominee Some required documents have to be submitted.
Let us tell you that you can file e-nomination sitting at home. With this, where the investor will get rid of the rounds of the office. At the same time, on the death of the investor, the nominee will easily get the benefits of pension, fund and insurance.
EPFO has shared this information through its Twitter handle. Earlier, through another tweet, the process of filing e-nomination has been told. Follow these easy steps to file EPF/EPS enrollment digitally. Let us know how you can add your nominee online.
If the work is not done then there will be a loss of 7 lakhs
If you do not add the name of the nominee, then your family may suffer a loss of up to Rs 7 lakh. The sum assured is paid after the death of the EPFO ​​member. The nominee or legal heir can claim for insurance if the EPF employee dies while in service. The minimum sum insured under the scheme is Rs 2.5 lakh.
At the same time, the maximum sum insured is Rs 7 lakh. This means that the nominee can take the sum insured up to Rs 7 lakh. The sum assured is deposited directly into the nominee's bank account.
Understand the whole process here
Login to EPFO ​​website. After that click on Service, then go to Employees option. After that click on Member UAN/Online Service.
Login with UAN and Password.
After clicking on the Manage tab, select E-Nomination.
Go to Provide Details tab and give complete information and save it.
Click on Yes for family related details.
Enter your family details. (More than one nominee can also be added.)
Click on Nomination Details and write what percentage of the share will be entitled.
After that click on E-Sign. OTP will be sent to Aadhaar registered mobile number. After completing the process, EPF/EPS will be added to your nominee account.