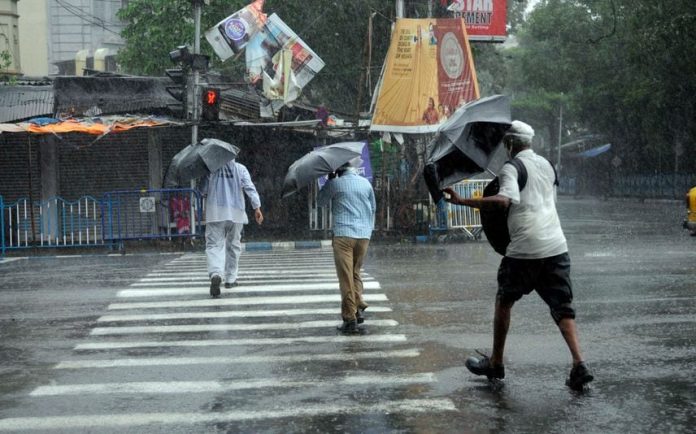 There will be an increase in temperature once again for 3 days across the country. The sky will remain cloudy in many states but there is a possibility of light rain. IMD Alert may see rain in the capital Delhi today, while the Meteorological Center has issued a forecast of rain and thunderstorm in Uttar Pradesh till September 19.
However, the temperature will increase again in Gujarat, Rajasthan including Punjab, Haryana. Temperature may increase in some districts of Bihar. A low pressure area is forming in the Bay of Bengal. It is expected to turn into a depression by September 20. If this happens then soon there will be a big change in the weather. Heavy rain will start once again. Here, the activities of Monsoon rains are decreasing over Rajasthan, Gujarat. Also, there is a possibility of light rain in some areas of Jharkhand today.
Rain in UP
The Meteorological Department has expressed the possibility of thunderstorms in Uttar Pradesh. Along with this, the administration has been instructed to be on alert. In Jharkhand, the Meteorological Department has issued a rain alert in Gumla Palamu Seraikela Simdega district. Cloudy sky in Delhi has recorded a minimum temperature of 23 degrees Celsius since morning, the Meteorological Department has said that it can be seen in Delhi till evening.
Rain in Bihar
Heavy rain has been predicted in many districts of Bihar today. On Sunday and Monday, an alert has also been issued in 28 districts of lightning accompanied by lightning. Districts where heavy rain has been predicted today. It includes all the districts of Eastern Bihar. At the same time, according to the Meteorological Department, the trend of the low pressure system in the Bay of Bengal has changed. Due to which rain will be stopped.
Weather will change in Jharkhand Orissa
Godavari will be seen in Andhra Pradesh including Jharkhand, Orissa. The weather is going to change soon in Jharkhand Kolkata in a few days. Due to the low pressure area forming in the Bay of Bengal, there is a possibility of change in the weather at places.
According to the Meteorological Department, a heavy rain alert was issued in Andaman and Nicobar Islands till September 20. There is also a possibility of thunder and lightning. Very heavy rain forecast issued for Odisha on 22nd September.
Rain in eastern states
Talking about the eastern states, an orange alert of moderate to heavy rain has been issued in Assam, Meghalaya, Manipur, Nagaland, Mizoram and Tripura from September 18 to 23. The administration has been advised to go, there have been forecasts of disruption of traffic.
Rain in mountainous states
On September 23 and 24, there is a possibility of heavy rain and thundershowers in East Uttar Pradesh, Uttarakhand, Himachal Pradesh, Jammu and Kashmir. A yellow alert has been issued for this. IMD has also predicted light to moderate rain in 17 areas in its weather bulletin. From September 21, heavy rains can be seen in some areas of Western Himalayan region, Uttarakhand and Uttar Pradesh.
Weather system
The weather forecast agency further said that a trough is extending from northeast Arabian Sea between 3.5 and 4.5 km above sea level to a cyclonic circulation associated with a low pressure area over central parts of Uttar Pradesh, Gujarat and West Madhya Pradesh.
Yellow Alert in Odisha
The districts of Odisha where red and yellow alert for heavy rain have been issued today include 14 districts. Heavy rainfall (7 to 11 cm) likely at one or two places over Kendrapara, Cuttack, Khordha, Jagatsinghpur, Puri, Nayagarh, Kalahandi, Kandhamal, Raigad, Gajapati, Ganjam, Koraput, Malkangiri, Bhadrak, Jajpur, Balasore and Mayurbhanj districts. Chances are. Heavy rainfall (7 to 11 cm) is very likely at one or two places over Kendrapara, Cuttack, Khordha, Puri, Jagatsinghpur, Ganjam, Gajapati, Kalahandi and Kandhamal districts.
Temperature will increase in MP-CG
Gujarat, Rajasthan including Madhya Pradesh, Chhattisgarh will see a reduction in rainfall. The possibility of rain has been ruled out in these states for 5 days.
Rain refuses in the south
However, showers will continue in Maharashtra, Mumbai, Goa while the Meteorological Department has ruled out rain activities.