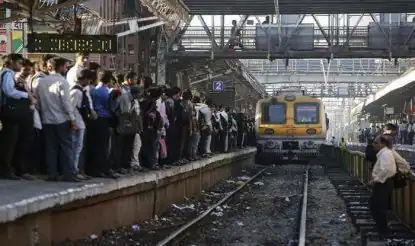 Mumbai Local Train News: In the facility being provided by Indian Railways, there will be a 11-day blockage at Mahim station in Mumbai. Due to which there may be problems for those traveling on this route. Those traveling by the Down Harbor route will have to find another option for 11 days.
Mumbai News: The lifeline of Mumbai is called the local train. Its operation remains affected for some time due to the work of maintenance, route maintenance etc. from time to time by Indian Railways. The latest case is of Mahim station.
Where due to the infrastructure work being done by the railways, the traffic at this station will be affected for 11 days. Local train will not stop at Mahim station. This will have a significant impact on the daily commuters.
Due to infrastructure work on behalf of the Railways, the train on Down Harbor Route will not stop at Mahim station for 11 days. Trains originating from Chhatrapati Shivaji Maharaj Terminus Western Railway Goregaon/Andheri/Bandra will not halt at Mahim station on Harbor Route for at least 11 days, forcing passengers traveling from this station to find some other option.
These can be problems
According to the information received, due to the disruption of operations at Mahim station for 11 days, there can be a lot of trouble for the passengers who take local trains to travel from here. Railways has requested passengers to travel by taking extra time. So that there is no problem in traveling by any other option. After 11 days, the operation of local train will resume at Mahim railway station.
This can be an option for travelers
According to the information received, the engineers of Western Railway are trying to find an alternative in the hope of avoiding this move which may cause inconvenience to the passengers.
Presently around 65 trains operate daily on the Bandra/Goregaon-CSMT Up route. And the same services are provided on the down line. If this decision is taken, then people will have to get down at Bandra or King Circle station and either go by road or board the train coming down, with this decision passengers will have to travel by taking extra time.