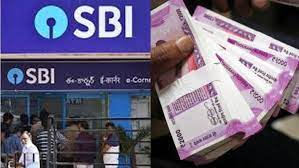 SBI Home loan Interest Rate: If you are thinking of taking a loan from the bank, then now there is a good news for you. For your information, let us tell you that SBI Bank is giving loans to its customers at very low interest rates. Let us know the latest interest rates in the news below….
HR Breaking News (Bureau). If you are thinking of taking a loan from the country's largest bank, then it can prove beneficial to first know its latest interest rates. According to the website of State Bank of India (SBI), the latest Marginal Cost of Funds Based Lending Rate (MCLR) of the lender has come into effect from November 15, 2023. In simple language, MCLR (Marginal cost of funds-based lending rate) is the minimum interest rate at which a bank can give loan to a customer.
SBI's MCLR for November 2023
MCLR based rates of SBI will now be between 8% to 8.75%. The overnight MCLR rate is 8%, while that for one month and three month periods is 8.15%. Furthermore, while the six-month MCLR rate is 8.45%, the one-year MCLR rate is now 8.55%. Whereas MCLR for two years and three years period is 8.65% and 8.75% respectively.
SBI का EBLR/RLLR
There has been no change in SBI External Benchmark Lending Rate (EBLR) 9.15%+CRP +BSP and RLLR 8.75%+CRP from 15 February 2023.
Base Rate
SBI's base rate is 10.10 percent from June 15, 2023.
SBI BPLR
The Benchmark Prime Lending Rate (BPLR) has been revised to 14.95% per annum, effective from September 15, 2023. The concession on home loan rates is currently EBR 9.15%.
SBI's festive season home loan offers
During its special festive campaign offer, State Bank of India (SBI) is offering attractive discounts of up to 65 basis points (bps) on home loan interest rates. This concession is applicable on regular home loan, Flexipay, NRI, non-salaried. The last date for concession on home loan is 31 December 2023.
However, the bank is now offering home loans at interest rates of 8.4% per annum as part of its ongoing holiday promotion. Discount is also available on top-up house loan. Under the special campaign, interest rates on SBI top-up house loan start from 8.9 percent per annum.
CIBIL Score 750-800
For CIBIL Score of 750-800 and above, the effective rate without concession is 9.15% (EBR+0%), the effective rate is 8.60% and a concession of 55 bps during the offer period.
CIBIL Score 700-749
Those having CIBIL Score between 700-749 are being offered a concession of 65 bps on home loan and the interest rate is 8.70% (EBR-0.45%). The effective rate without concession is 9.35%.
CIBIL Score 650-699
Home loan buyers with CIBIL score between 650 – 699 will not get any concession and the interest rate will be offered at 9.45% (EBR-0.30%) and those with CIBIL score between 550 – 649 will be offered the interest rate at 9.65% (EBR+0.50% ) will be given.
CIBIL has specified score bands of 101-150 and 151-200 for new credit borrowers. That is, if you want to take a home loan at a low interest rate, then your CIBIL score should be excellent otherwise you will have to pay high interest on the home loan. May have to pay. Pay your loan installments and credit card bills on time to improve your CIBIL score.