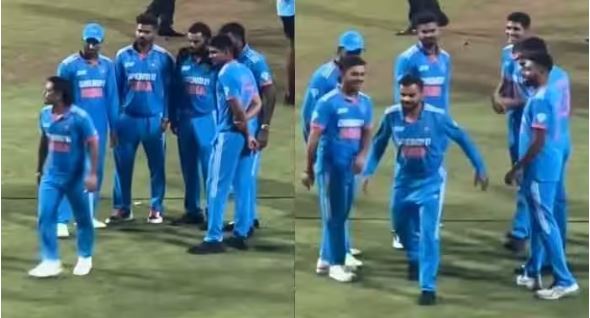 This memorable Asia Cup victory and the heartwarming camaraderie between players like Ishan Kishan and Virat Kohli serve as a testament to the team's strength, both on and off the field
The Indian cricket team's remarkable victory in the Asia Cup 2023 has left fans and pundits alike buzzing with anticipation as they gear up for the impending three-match ODI series against Australia. The triumph in Sri Lanka not only brought glory back to the Men in Blue but also provided some exciting insights into the team's dynamic, including a hilarious moment of camaraderie that went viral on social media.
Ishan Kishan mimics Virat Kohli's walk. (Rohit Juglan).

Virat Kohli counters it later! pic.twitter.com/1UWc7aaNsP

— Mufaddal Vohra (@mufaddal_vohra) September 17, 2023
A Viral Celebration Moment
Amidst all the cricketing action, what truly captivated the hearts of fans was a light-hearted moment during the victory celebrations. A video from the post-match festivities went viral on social media, showcasing the camaraderie within the Indian team.
In the video, Ishan Kishan was seen mimicking the iconic walk of none other than Virat Kohli on the cricket ground. What followed was a moment of pure joy, as Virat Kohli, in good spirits, returned the favour by mimicking Ishan Kishan. The entire team burst into laughter, capturing the essence of their unity and camaraderie.
Ishan Kishan's Shifting Role
Throughout the Asia Cup, Ishan Kishan showcased his versatility as a batter. Initially featuring as a middle-order player, his standout performance in the group-stage clash against arch-rivals Pakistan, where he scored 82 runs off 81 balls, firmly established his credentials in that position. His ability to anchor the innings and provide stability was evident, making him a valuable asset for the Indian team.
However, the Asia Cup final saw a twist in Kishan's role. He walked out to open the innings alongside Shubman Gill, sparking speculation about his batting position in the upcoming series against Australia. Kishan, quick to clarify his role, stated, "We know our roles, we know how to prepare for the World Cup. We are playing against Australia, and I will be batting in the middle-order."
Siraj's Spell and Gill-Kishan Duo
While Kishan's role clarification was significant, the star of the Asia Cup final was undoubtedly Mohammed Siraj. His incredible spell dismantled Sri Lanka's batting order, with a rare feat of picking up four wickets in a single over. Kishan couldn't help but praise the bowlers, especially Siraj and Jasprit Bumrah, acknowledging their pivotal role in India's triumph.