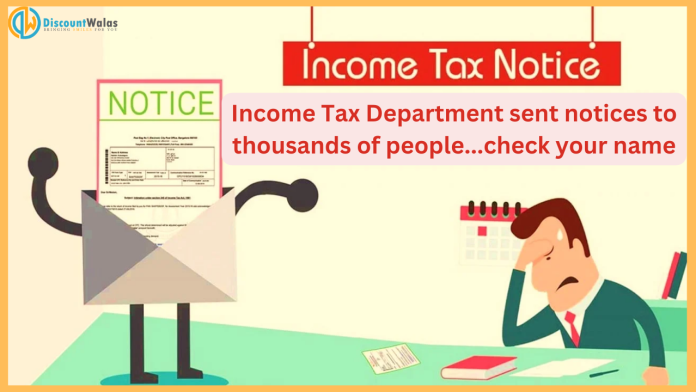 Income Tax – According to a recent update, it is being said that notices have been sent to thousands of people by the Income Tax Department. Let us tell you that the department suspects that these people have committed tax evasion in the name of making huge donations to charitable institutions.
Income Tax Department has sent notices to about 8,000 taxpayers. The department suspects that these people have evaded tax in the name of making huge donations to charitable institutions. Companies, businessmen, salaried people and people running business are also among the recipients of the notice. A notice has been sent to all the people between March and April 1 asking for their response.
According to the Income Tax Officer, in the eight thousand cases in which notices have been sent, some things are similar. In these cases, the donation of the exact amount has been shown, which was necessary to reduce the tax slab or get complete exemption. In addition, cash was donated in all cases. Similarly, some income tax payers dependent on salary income have paid exorbitant amounts to tax professionals.
Now more people will be issued notice-
According to the Economic Times, all these transactions have been done during the year 2017-18 to 2020-21. Income tax officials say that more notices may be issued in such cases in the coming days.
This is how the game happened-
Officials say that the amount donated by many businessmen and companies to charitable institutions does not match their earnings. In such cases, some charitable organizations deduct a commission and give the remaining cash amount and donation slip to the donor, which helps in tax evasion.
The department is also tracking those trusts which offer fake bills to taxpayers. And no action has been taken yet against such charitable trusts. If this irregularity is found in the investigation, then the tax exempt status of such charitable trusts will be taken away.
Let us tell you that under Section 80G of the Income Tax Act, contributions to certain funds and charitable institutions are allowed as deduction from income. Depending on the nature of the institution, 50-100% of the contribution can be allowed as deduction. Such donations are also subject to income limitations.
EPFO Big Update : EPFO gave important news to its members! You will also be happy after hearing this